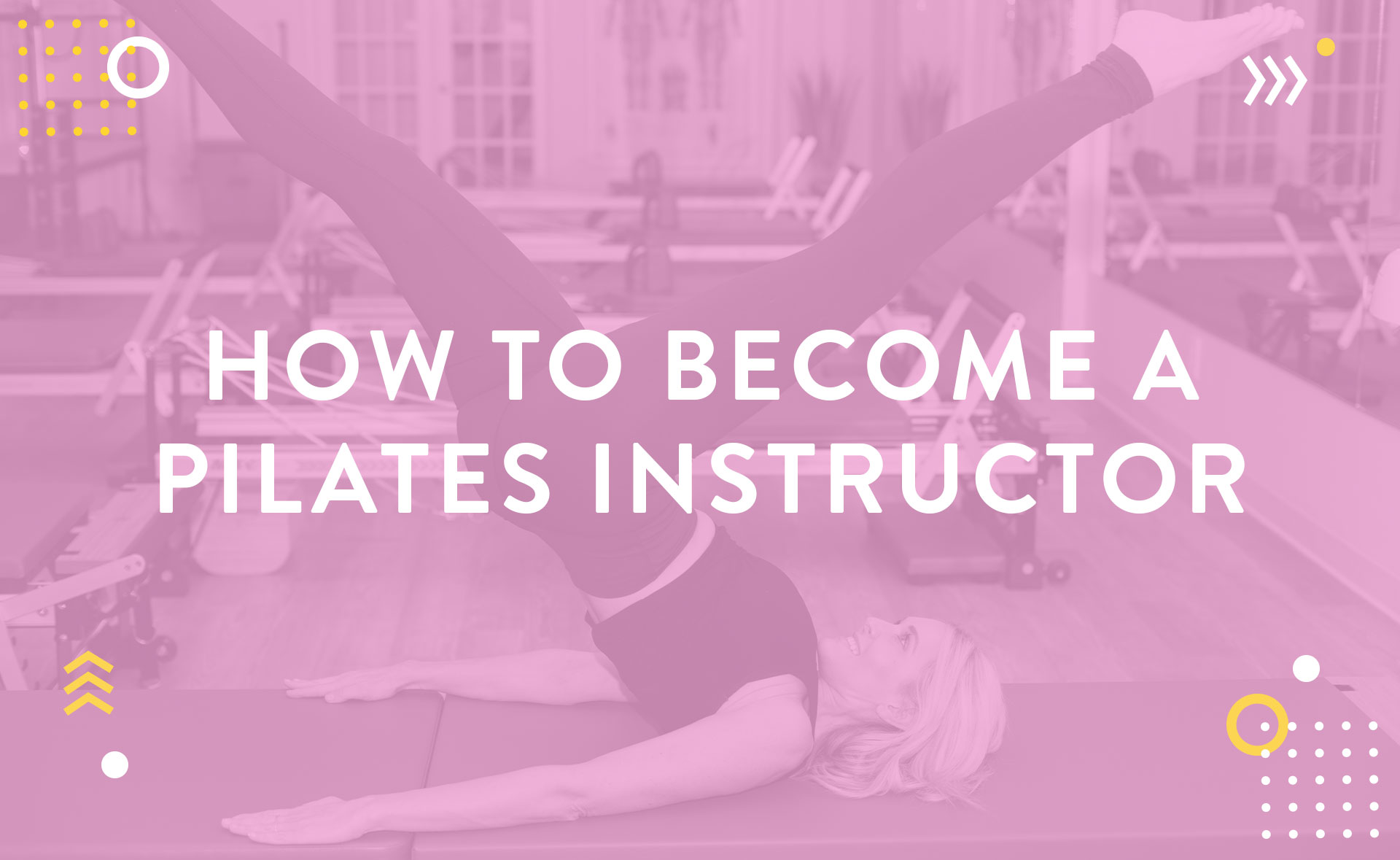 So, you're thinking about becoming a Pilates instructor. That's great news! Pilates instructors love teaching others, learning how postures move, how people move, human anatomy and how it all works together.
Below is a brief step-by-step guide on how to become a Pilates instructor.
6 Steps to Become a Certified Pilates Instructor
Luckily, there are clear steps to take to become a certified Pilates instructor. Once you've completed a comprehensive certification program, you'll be on your way to becoming a Pilates instructor.
1. Take a Pilates Class
First things first, take a Pilates class! Chances are you've already taken a few Pilates classes, sparking your interest in becoming a Pilates instructor, but in case you haven't—hit the mat! Immerse yourself in the lifestyle, learn about its long history and how it's evolved! 
Locate your local Pilates studio (Hi, Boom Pilates) and take a variety of different classes at different studios to get a feel for which techniques you're passionate about.
2. Classical or Contemporary Route 
In order to begin your Pilates instructor training, you must choose which route you want to take to narrow down your specialization. The two most common routes are classical Pilates and contemporary Pilates.
Classical Pilates stays as close as possible as the original methods outlined by Joseph Pilates' who created and established Pilates as a type of physical fitness.
Contemporary Pilates is fundamentally based on Pilates' work but is heavily influenced by physical therapy, among other changes as determined by individual Pilates instructors. 
3. Start Your Pilates Certification Program
The next step is to begin your Pilates certification process! Begin your research, Google your heart out, and look for a training course-plan that works for your lifestyle, work/life and potential travel flexibility. In the long run, post this initial certification, you may also seek to be certified by the Pilates Method Alliance (PMA) or the National Pilates Certification Program (NPCP). You will be required to prove your full certification completion prior to applying for acceptance to these additional exams. 
Once you begin your training you will begin to facilitate your "study hours". These hours will include classroom training, studio practice, practice teaching, and specific observation hours. Get ready to dive into hundreds of Pilates hours of FUN! Once your hours are complete, and your anatomy training is under your belt, you will be allowed to book your test with an Instructor Trainer (IT). 
4. Choose Your Form and Specialty
Once you begin your Pilates instructorship, you can start to explore different specializations and forms. As a Pilates instructor, having a specialty and focus gives your practice direction and helps you build your own brand in the market. It will inform the type of clients you take on, and where you will likely focus your own Pilates training.
There are endless ways, styles and levels with how one can teach Pilates. Additionally, there are even more specialties. Here are the apparatuses (or modalities) used to often teach Pilates. You can either focus on all, some or just one!
Mat Pilates

Reformer Pilates

Chair, Cadillac and Barrels 
Some of the more common Pilates specialties include:
Pre- and post-natal Pilates

Pilates for athletes

Pilates for chronic pain

Pilates for post-surgery or accident recovery

Pilates for arthritis and joint pain

Pilates for the aging population

Pilates for dance 

Pilates as fitness 
When I started out as a Pilates teacher, my practice took me to a more modern, edgy, up-beat version of contemporary/fitness Pilates. Learn more about my teaching style here!
As you start to figure out where your own Pilates training program is taking you, it's important to begin to practice teaching your own Pilates style with your friends, family, and whoever will let you! It will be required for you to log your hours of teaching Pilates, because you'll likely need to complete +500 hours or more for all modalities, if seeking out a full certification.
4. Take Your Test
After you complete your Pilates training program, it's time to take your certification exam! If you chose to pursue the contemporary approach, you should expect both a written and practical test, including some element of postural analysis. For the classical approach, many additional benchmarks and apprentice work will also apply.
A proper pilates certification course can cost anywhere between $500 to $2000 per modality, and each exam component has an additional cost as well.
After receiving your Pilates certification (congratulations!), you will finally be able to relax and celebrate! To ensure that you keep your certification updated, always make sure you continue improving and growing by enrolling in the assigned continuing education Pilates courses throughout your teacher journey.
5. Find Liability Insurance
Securing professional liability insurance as a Pilates instructor is a crucial step in protecting yourself, your clients and your business. Depending on where you are holding your Pilates classes will determine what level of liability insurance is needed.
If you are teaching Pilates from home, you will need separate liability insurance. If you are teaching at a studio as a contractor, you will need liability insurance that carries with you wherever you go.
6. Never Stop Learning
This one is so important! Your Pilates practice is an ongoing journey. Never stop learning from other Pilates teachers, your clients, and from your community, and let the experiences of your life inform your practice.
The more you are open to learning and improving your practice, the better Pilates teacher you'll be.
Pilates Instructor FAQs
This was a pretty brief overview, so you might have some lingering questions. Below I've answered some common questions about how to become a Pilates instructor.
How long does it take to become a Pilates instructor?
Depending on your time dedication and certification path, this can vary between 7 months to 2 years. One solo modality can take about 6 months to earn, and up to 2 years for a full certification.
Do you need to be certified to teach Pilates?
Short answer: Yes. It is preferred and required for employment in most studios. 
How much does a Pilates instructor earn?
On average, Pilates instructors can make anywhere between $25 to $60 an hour, with room for growth (especially if you own your own studio). This number of courses varies depending on location in the US.
Being a Pilates instructor requires an entrepreneurial spirit! 
Conclusion
Being a Pilates instructor has changed my life. And the impact that my practice has on my clients, and the impact my studio has on Boom Pilates instructors is worth way more than all of those Pilates exams and practice hours combined.
I can't recommend enough starting this journey! I encourage you to connect with as many Pilates instructors as you can to grow your network. 
Follow Boom Pilates and our sister education company, The Mixed Method for Pilates inspiration and teaching information!