Hi. My name is Danyal, and I am a leggings-aholic.
Show of hands: Who here has tried (or is trying) to figure out a way to make "leggings day" a weekly thing at their office?
All of you? That's what I thought. Well, me too.
In addition to being totally obsessed with the art of Pilates, I am totally addicted to the apparel of the sport.
It's time to fully acknowledge that most of us (not so) secretly live in our leggings these days. The athleisure look is in, and we want the best of form and function, whether we're working out or not. We also know that we want our bottom half to shine as our very best ass-et in the studio and outside of it!
In honor of keeping everyone off the wagon, I'm counting down my top five leggings of 2018. Please peruse responsibly.
5. Alo Yoga – Moto legging
(Boom Color Pick: Black/Black Glossy)
Ladies, you do not need to buy a pair of leather leggings this year if you buy these instead! These leggings are literally the "2-for-1" of jazzy pants. They move from day to night—and then to afterhours, if that's your thing. I personally love to run in these leggings, because the fabric wicks really well and the high-waist keeps it all flattering and flattening. I also can't wait to toss on an oversized (most likely cream colored) sweater with these and some boots for date night.
4. Outdoor Voices – TechSweat 7/8 Flex Legging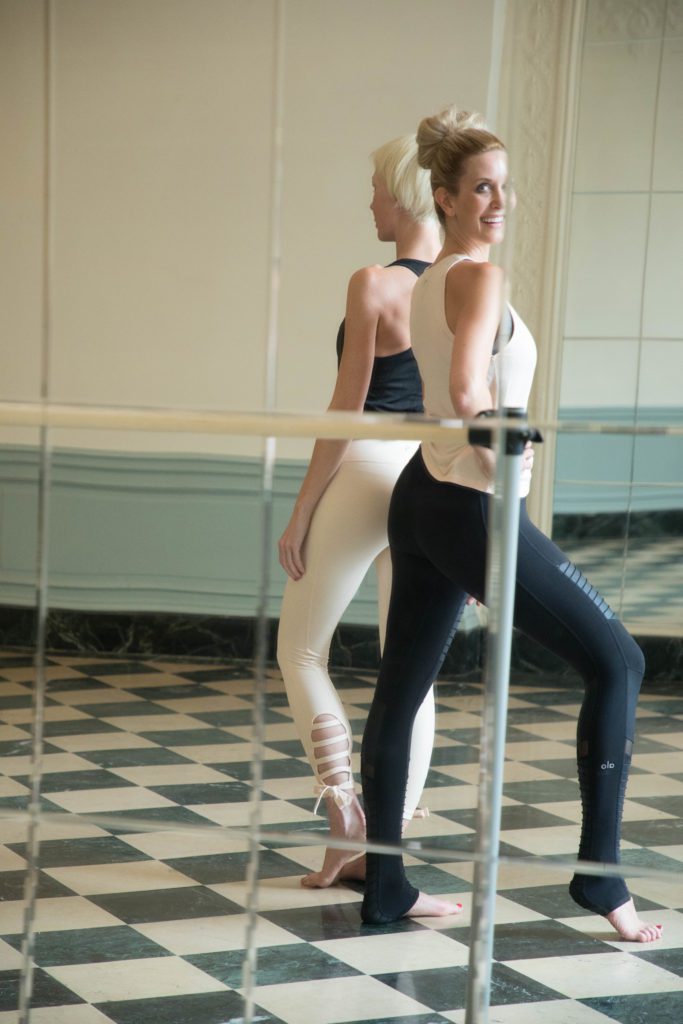 (Boom color pick: Classic Baltic Blue)
This brand feels like a boho-chic vegan sat down under a willow tree and handcrafted every piece from the Earth's most amazing natural fibers. In short, these fabrics are everything. If you are looking for your legs to feel an inch tighter all over and your peach to lift a little higher, buy these. I was personally looking for a soft and feminine addition to my arsenal of black and loud, neon Pilates pant collection, and Outdoor Voices did not disappoint.
3. Goldsheep: all of them!
(Boom color pick: … all of them!)
If you have not stalked the Goldsheep site yet, do it right this minute. These tights are not for the faint of heart. With this one-of-a-kind brand, you do you. I personally did a lot of flamingo, a classic choice for me. This brand has made a crazy, fun debut out of Orange County with a branded mix of art, fashion and fitness. Some of the styles do come in long, and if you are over 5'7'', I would highly recommend adding the length.
2. Fabletics: High-Waisted Solid PowerHold legging
(Boom color pick: Papaya)
I obviously had to pick something in pink, and so, this is the pink pick. Fabletics leggings are so close to first place for me, and I love their VIP membership club as much as I love Kate Hudson in general. The high-waist technology is on point with every pair of Fabletics tights. You really cannot go wrong here. They have short, crop, long and normal lengths. They have colors, prints, stripes and mesh. The whole brand is basically a leg's dream come true.
1. Lululemon: Wunder Under Hi-Rise 7/8 Tight Full-On Luon 25"
(Boom Color pick: Gravity)
Winner, winner, (plant-based) chicken dinner! These jewel toned crop leggings are life. If you're not already obsessed with these, they honestly feel like a second (more toned) layer of skin, just wrapped around your whole bottom half. I swear, I can do a million stick-straight leg circles in these pants, and my side-splits look at least three inches longer when grooving on the carriage. Trust me, and the other million ladies who are probably wearing these as we speak, you cannot truly live your best life until you own a pair of these leggings.
There they are: our top picks for athleisure leggings. For more updates on Pilates and how to look good in and out of the studio, subscribe to our email updates.