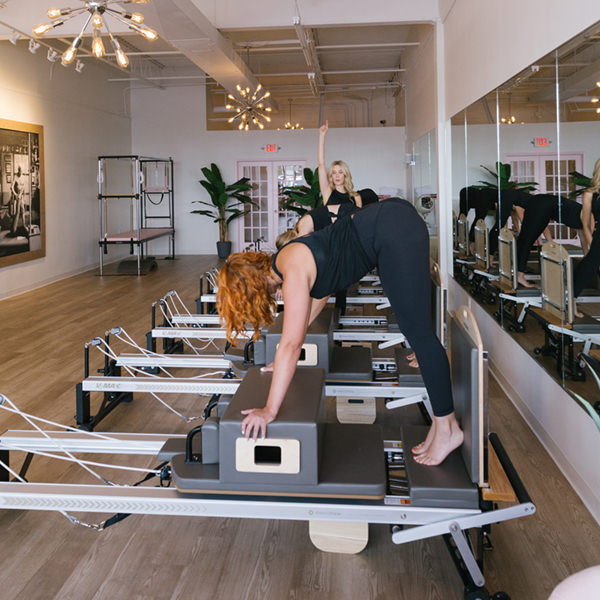 So, you think you want to become a Pilates instructor?
Or, maybe you're looking to add a new and modern certification to your already tenured fitness portfolio?
Well, you're in luck. Enter: Boom Pilates and our upcoming Core Reform workshop.
This upcoming training course is the perfect certification to add to your continued Pilates education or kick-off your entrance into the world of Reformer Pilates instructorship.
What is Core Reform, anyway?
Core Reform is the modern adaptation of traditional Pilates and functional fitness specifically designed for teaching large group classes. This certification focuses on functionality and strengthening, lengthening and toning the body while applying the Smart Movement® concepts of stabilization.
Want to know a little more?
Boom Pilates is honored to host this very exciting instructor training course on October 12 and 13. We also think it's critical to share the background and history of this method with all our future participants and clientele, as we will be adding this unique group class on to our own Boom Pilates studio schedule in the coming months.
Core Reform's creator is Singapore's talented Master Instructor Ole Eugenio. This Reformer certification originated from his many years of teaching group Reformer classes and his true love for teaching high energy fitness and aerobic classes. (You can read more about Ole's amazing background in movement at the bottom of this post. He is a true force to be reckoned with, and we are thrilled to have his footprint grace the studio floors of Boom Pilates.)
As we all know, each successful method supports an existing need in the marketplace, and the birth of Core Reform is no exception to this rule. Ole felt that what was missing from traditional contemporary group reformer classes was a dynamic combined flow of fitness and Pilates exercises that could safely be taught on a contemporary reformer. The most exciting news for all our future Boom Pilates Core Reform instructors? The classes are all pre-programed, set to dance music and taught with smart progressions and transitions from one exercise to the other, all while truly challenging the group class in unison.
What makes Core Reform different from other Pilates programs?
Core Reform mirrors our Boom Pilates methodology with a laser-focused emphasis on eccentric control, an area in which people tend to be slightly weaker. This method also allocates totally new and unique choreography. These moves work within multiple ranges of motion and, combined with the resistance of the reformer and other small props, this method allows each client to build upon strength, while adding superb control and cardiovascular endurance. Fun fact: Many of the exercise's variations are done standing, which is atypical for our usual Boom Pilates reformer classes.
Core Reform also offers contemporary Pilates instructors (like our team of STOTT instructors) the opportunity to adapt to a more classical Pilates syllabus, catered to a small group setting, on the same modern and contemporary reformer.
What can Boom Pilates clients expect to gain out of this newly offered class?
Boom Pilates participants of Core Reform classes can expect to take part in a fun, choreographed AND challenging group reformer class that is set to great dance music (hence why the method was the perfect fit to bring to our studio crew). This class will offer totally new moves that work perfectly into a continual flow of effective exercises, all taught on our Boom Pilates reformers!
New but simple cues and modifications will be facilitated on how to appropriately set up the equipment and props, making Core Reform classes accessible, fun and safe for healthy individuals of all fitness levels.
Core Reform is a simple and appealing approach to Reformer Pilates that continues to promote our community goals of strengthening, lengthening and toning in all the right places!
If you're excited to take part in the course, certification and upcoming training, click here to register.
Ole Eugenio
Ole Eugenio is the Creator of Core Suspend and Core Reform from the systems of Smart Movement. As a former gymnast, he started out in aerobic classes in his native Manila. He later moved on to training as a fitness instructor and gained international acclaim by helping to introduce Step Aerobics and Latin Aerobics to Hong Kong and Dubai. Ole went on to become the first Filipino to be fully certified by the Stott Pilates method in 2001.
In 2006, Ole was invited to become an Instructor Trainer for Stott Pilates® and launched his own Pilates studio in Singapore. Since then, he has trained hundreds of students throughout Asia, helping to seed many new Pilates studios and enabling the growth of his own chain of studios, which is now established throughout Asia.
Ole is a recognized Master Trainer for CORE BARRE™ and its systems of Smart Movement® in Asia.
Ole is also a certified teacher of GYROTONIC® and GYROKINESIS® and has been an integral part of programming for the CORE BARRE, CORE SUSPEND and CORE REFORM Systems of Smart Movement.