Pilates, and especially equipment Pilates, can be really intimidating for beginners, especially when that intimidation is compounded by common factors that can make traditional Pilates studios awkward. When looking for a new Pilates studio, there are a few basic elements to look for on your first visit that will help you figure out if you've found a studio gem that will make you feel comfortable and confident. Here are some areas to research prior to that first visit in your new studio.
Six signs that you are about to join a solid Pilates Studio

Accredited and trained instructors
Your studio should employ nationally accredited instructors with a technical background in Pilates, anatomy and movement. Most Pilates instructor training programs require 500-1000 apprentice training hours, years of student training and an intense focus on injuries, pre/post-natal practice and special populations. Check the "about us" page on the website of the studio you are considering before you visit. This should detail the level of expertise for the team of instructors.
Dedication to client safety
The studio culture should have a mission that is focused on client safety and injury-prevention. Pilates is a place to find movement again after years of pain or injury. Pilates is also a sport that can help you find dynamic results with a safe and progressive repertoire that caters to your increasing strength levels.

Small class sizes
The studio should really not hold more than 12 pieces of equipment in the room for each group class being taught. In a rapidly moving group environment, when more than 12 pieces of equipment are involved, your instructor may not be able to truly monitor the unique alignment of everyone's spine, hips, neck and body.

Private sessions
Do not be surprised if your studio requires three to four private Pilates sessions with an instructor prior to being allocated admittance into group classes. These private sessions are worth every penny and are essential for a beginner's journey into equipment Pilates. This private sesh time will ensure that you understand all the anatomy of the equipment offered, and insure that you know how to personally use the equipment safely for your unique body structure (height, posture, balance, fitness level, form and previous injuries).

Classes for every fitness level
The Pilates studio should offer multiple levels of practice in their group classes. It is common for beginner classes to be called "essential" classes in the description. This essential work is the foundation course for safety, perfecting form and learning all the technical details surrounding the five basic principles of Pilates. The "intermediate" classes will move much faster and work muscle groups with more intensity and some super fun choreography. Finally, the "advanced" classes will have you eating your Wheaties before your workout. Advanced sessions are for seasoned Pilates pros, with moves catered for fitness buffs with peak endurance, fabulous form and crazy intensity.

Equipment Pilates
Many people in their search for a new Pilates studio, especially if they're a beginner, look for studios that offer mat Pilates. However, if you're new to Pilates, you might be surprised to find out that mat Pilates can often be one of the most advanced and difficult ways to do Pilates. Other Pilates equipment, such as the Cadillac or Reformer, have crazy tools and gadgets attached, ensuring your body is stabilized while being mobilized (think 50-Shades-of-Pilates). Once your anatomical positioning is connected to the equipment, it could be time to progress to mat work. Mat Pilates can be tough—it's basically just you against your core! It's critical that your form is on point before progressing to mat, so that your safety is not jeopardized. Be sure to chat personally with your new studio instructor to get more insight on the equipment offerings at your new studio.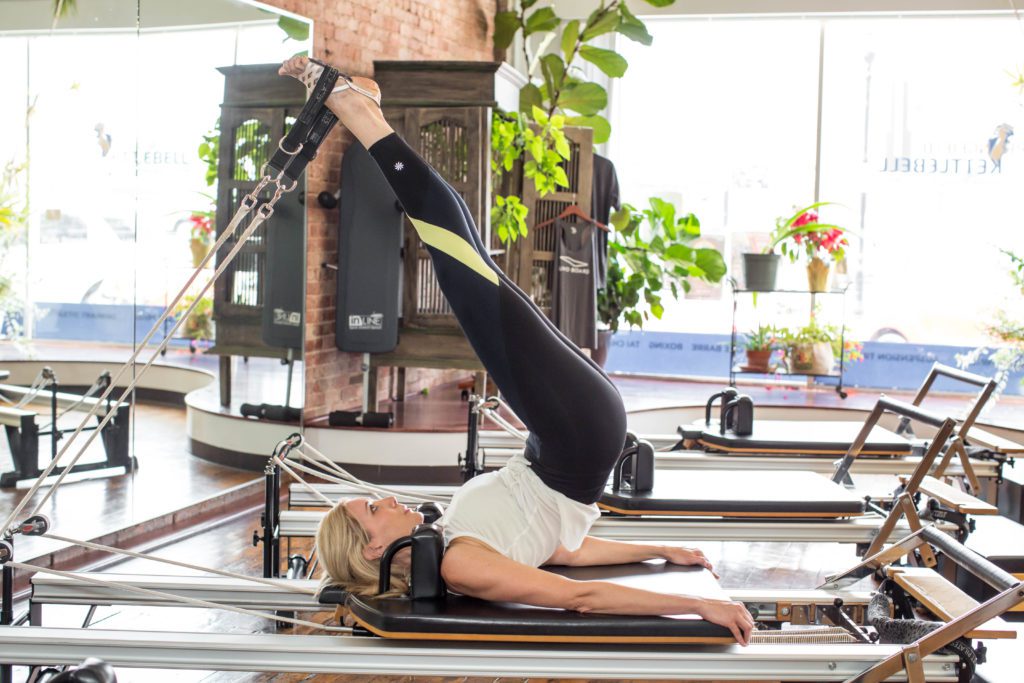 With these benchmarks in mind, you're ready begin your search for the perfect studio to jumpstart your Pilates journey!