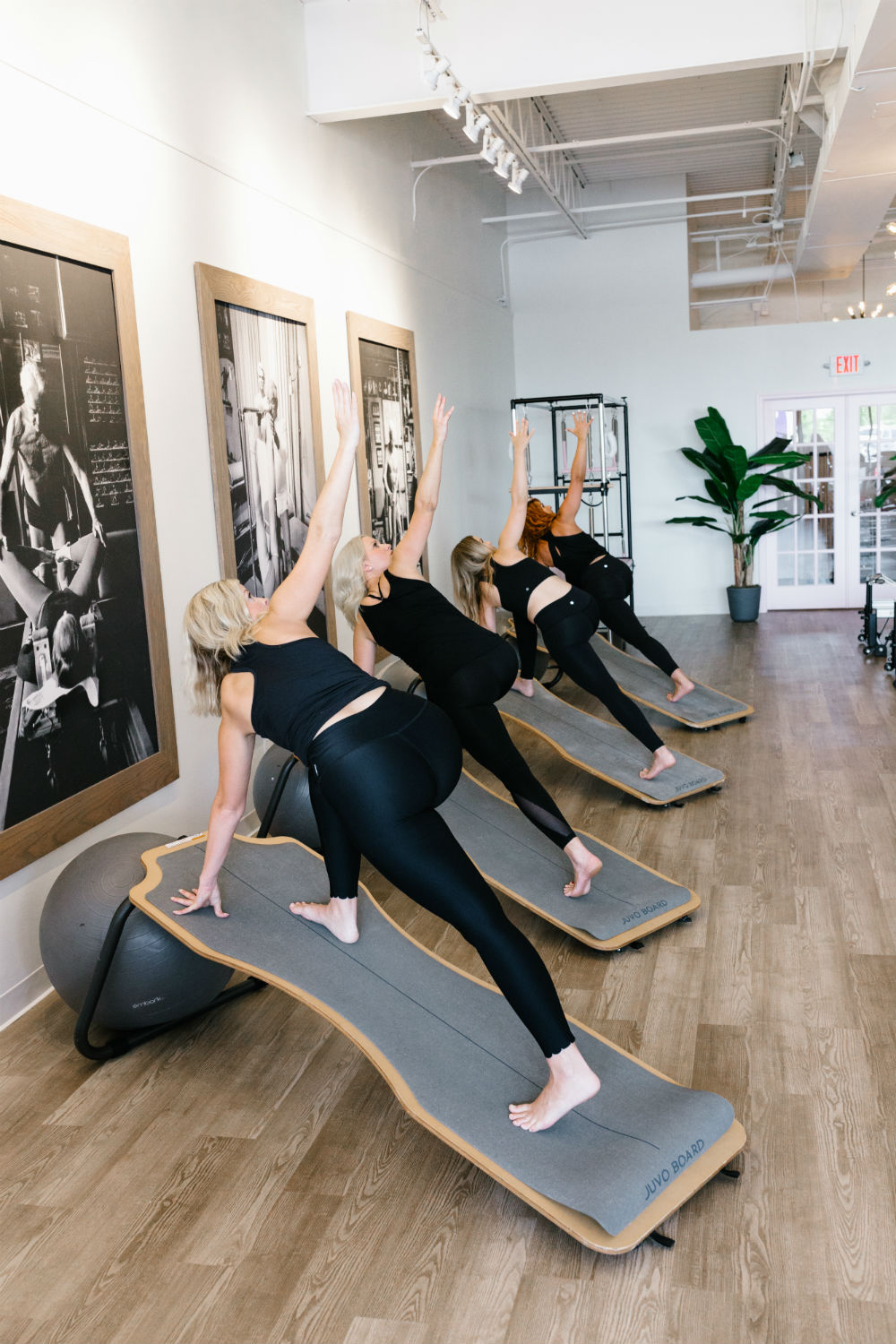 Many of our studio visitors have been asking about our Juvo Boards (those interesting wooden boards stacked next to the studio wall). Well, the time has come to break out these cool boards and re-launch this certification offering!
What is the Juvo Board?
The name "Juvo" is Latin for "to attain and assist." The Juvo Board is a revolutionary piece of equipment perfect for a fusion of fitness methods including yoga, barre, SUP fitness training, and mat Pilates techniques. The Juvo Boards' Balance and Elevate position offerings adjust to your level of strength and ability. This means that the board is dynamically designed to help you attain moves that may have otherwise been too challenging. Furthermore, this unique tool can truly challenge you in terms of toning your muscles and reaching new levels of strength and agility.
Certification Opportunities in St. Louis
More exciting news! The Juvo Board Instructor Certification and training workshop is coming back to St. Louis on November 23 and 24, 2019. This two-day workshop will be held at Boom Pilates Life (12330 Olive Blvd.). Limited to seven individuals, the course will include a full spectrum of all Juvo Board modalities, board levels, and moves, as well as a training manual and certification opportunity. The course will welcome seasoned fitness instructors, future instructors, and fitness enthusiasts seeking to learn more about the fitness facets of the Juvo Board.
As one of the nation's first 250 Certified Juvo Board Instructors, our founder Danyal is a true fan and ambassador for the Juvo Board. Danyal wanted to add this versatile piece of equipment into the Boom Pilates studio for three reasons:
Juvo Board classes are ideal for a 45-minute power class. You can get a killer workout for the day and be in and out of the studio in less than an hour. This power board is designed to help you get your heart rate up, break a sweat, facilitate your stretching, and give you a great HIIT-style workout.
The classes are small and intimate. The size of an ideal Juvo Board class is around 6 individuals. This means that the safety component and the personal training emphasis are more controlled than they would be in a larger class setting. Plus, the board is really stylish and modern (and anyone who knows Danyal knows she's a sucker for a cool fitness vibe).
The certification includes a LOT of yoga, surf training and balance, barre moves, and mat Pilates. Danyal loves the specific Pilates component in the training (not a huge surprise, huh?) As a certified advanced (STOTT) mat Pilates instructor, she was pleased with how amazing the training manual, techniques, moves and form were taught within the workshop. The training is top-notch, and in two short days, this Juvo program gives any new or aspiring Pilates instructor a TON of options to begin their exciting teaching journey. Fun Fact: BPL is looking to add new Juvo instructors, and this course will be a great way to build your candidacy in the studio.
BPL currently offers three Juvo Board (40 min) group-class offerings each week. Come experience the moves and take a class, as you consider experiencing this workshop program.
Juvo-Boom is held weekly:
Mondays at 7am
Tuesdays at 6pm
Wednesdays at 9:30am
If you are looking to learn more about this method, want to elevate your current instructor portfolio, or aspire to get your foot in the door of Pilates instruction, this course may be for you!
Spots are limited, so sign up soon!
See you soon in the Boom Room!